We're launching our 2021 – 2025 Strategic Plan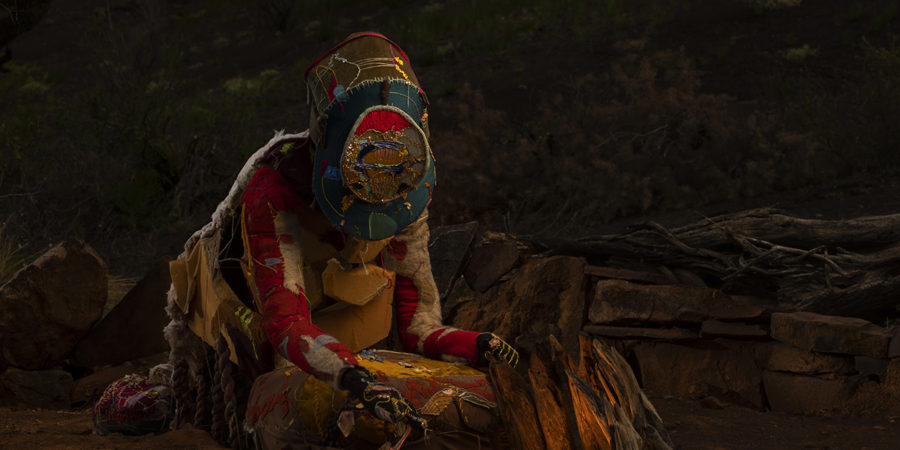 Image: Dave Laslett and Kasia Tons, To live deliberately, 2020,
Site based installation/sculpture, Flinders Ranges. Courtesy of the artist. Commissioned by Country Arts SA.
This week Country Arts SA will unveil its Strategic Plan for the next five years. The plan will be presented to a live audience in Port Pirie at the Northern Festival Centre, alongside a state-wide virtual audience on February 25.
To support the plan for the next five years, Leigh Creek artist Dave Laslett and Adelaide Hills artist Kasia Tons created "To Live Deliberately", an artwork that represents obstacles faced by regional artists.
The plan provides a clear purpose in a time where everything around us is in constant change. The many radical changes we experienced last year continue to impact the way we live, think and feel. The need for human connection was highlighted in a year when we couldn't physically meet and it became even more important to move into new online spaces.
Country Arts SA Chief Executive Anthony Peluso said, "In 2020 we found new ways of bringing artists and communities safely together to share in the power of arts and culture. Across 2021 to 2025, we build on that by striving to make a difference through four key goals."
The four key goals enforce Country Arts SA's vision and commitment to artists and communities of regional South Australia to thrive through engagement with the arts, and be recognised as valued contributors to the nation's cultural voice.
The four main goals are:
Support and empower artists, arts workers and organisations in regional South Australia to develop their practice, produce extraordinary arts experiences, and share their unique stories.
Listen and respond to the diverse communities of regional South Australia and create opportunities for engagement in the arts at every level.
Activate our Art Centres and a range of other spaces to produce or present work in regional South Australia, and support them to become viable, accessible and fit-for purpose.
We will work together to create a strong, viable and values-driven organisation that is committed to continual improvement and that supports and inspires our team to strive and thrive.
To illustrate the above goals some of the projects Country Arts SA is currently undertaking are: supporting Adnyamathanha and Luritja woman, visual artist Juanella McKenzie to develop a body of work to be exhibited in 2021; a co-production with State Theatre Company, Euphoria, developed over two years with strong community consultation which will travel to 18 regional and metro locations; a project connecting First Peoples from South Australia, Northern Territory and Queensland to regenerate the songline of Warrukadli (Narungga for wild dog) and revive and maintain cultural practices; our Local and Live program kicked off in Mount Gambier and live-streamed to a statewide audience with great success; with support from the State Government of South Australia we are able to undertake important upgrades to the Chaffey Theatre in Renmark, and an upgrade to the Varcoe Foundry, adjacent to the Sir Robert Helpmann Theatre in Mount Gambier; a new online space called Venue 6, and live streaming from the Adelaide Festival which begins this weekend.
From 2021 Country Arts SA begins a series of new Arts Activation partnerships with arts organisations, local governments, and communities, resulting in local employment and arts and cultural experiences, showcasing the great stories of our First Nations peoples and regional lives across the State, and contributing to proud, resilient and creative local communities.
The Strategic Plan is available to read here.