South Australian Government's Elevate Grants Program Announced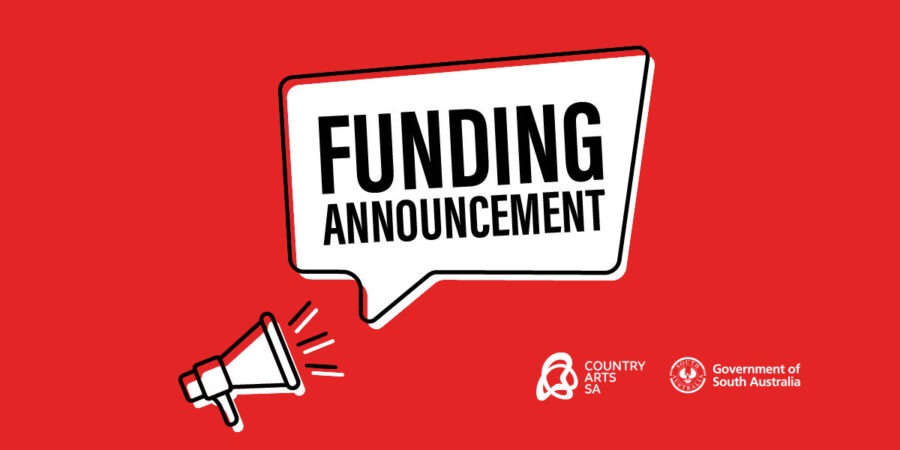 Earlier this year, the Government of South Australia announced an investment of an additional $8 million in grants across four years to support artists and smaller arts collectives to develop new work.
As a result of this investment, Country Arts SA established the Elevate Grants Program which saw $200,000 directed to regional arts, offered in three rounds of Explore, Create and Present.
Country Arts SA has announced the eight applicants from regional South Australia who were successful in receiving a grant, some of whom have not received a grant through Country Arts SA previously.
A fourth round – Local & Live – remains open until mid-December 2022 for grants of up to $2,000 to support regional performing artists to present their work at a regional South Australia venue or Country Arts SA arts centre. The outcomes of the Local & Live round will be announced at a later date.
The Elevate Grant Program helps to ensure that artists can live well and work in their local towns and regions and would provide a boost to the regional arts sector and to local communities across the state. Alignment between existing Country Arts SA programs and the new suite of grants enable the creation of stronger pathways for professional and artform development amongst regional artists and in regional settings.
For details of the successful recipients and their projects please read on.
For more information about the Elevate Grant Program, please visit www.countryarts.org.au/news/elevategrants/
Quotes attributable to Minister Andrea Michaels
I am pleased that through the Government's commitment to the regional arts sector, we have been able to provide additional funding to Country Arts SA, that in turn goes directly to support artists, arts collectives and our communities in the regions.
I am really proud of the work that Country Arts SA does as our specialist regional arts organisation. Through them, we are able to provide support for a diverse range of established and emerging artists to build their local creative capacity and present new work to regional audiences, with a multitude of flow on effects, including community wellbeing and stronger communities.
Quotes attributable to Country Arts SA Chief Executive Anthony Peluso
We are excited to see the projects announced today which range from an industrially integrated music project to a residency for creating works that respond to trauma and healing.
We look forward to seeing the outcomes of these projects as they bring together audiences and artists working across regional South Australia to celebrate new work.
ELEVATE GRANTS PROGRAM 2022 | LIST OF PROJECTS FUNDED
Explore Grants
Gavin Clarke | MOUNT GAMBIER | $9,900
Sounds Of Industry (Industrially Integrated Music)
Gavin Clarke will explore the sounds of human activity and the everyday music that occurs when machines lay down a rhythm. To capture the soundtracks of machines, Gavin will visit sites of the Limestone Coast's biggest local industries such as timber mills, paper factories, cheese production, dairies, wineries, agriculture, construction and fisheries. Gavin will then compose new pieces for the many musicians and ensembles that reside in the South East region of South Australia to perform, including guitarists, percussionists, a French horn player, a string quartet, a metal group, bag pipes and a concert band.
Kat Bell | BERRI | $10,000
Healing Threads Residency
Gudjula and Girramay artist Kat Bell creates narratives that relate to the experiences of an autistic, First Nations, middle-aged women traversing the bounds of a neurotypical world. Kat will use the Explore grant to undertake a residency to create works that respond to trauma and healing in a variety of artforms, such as: textile arts using recycled materials such as plastic bags and old clothing to crochet, knit, embroider, sew and weave pieces; painting in different mediums including combining and reusing oil, plant dyes, teas, coffees and soils of the earth; journalling, poetry and other creative writing; and digital art (film, projection).
Rachelle Plazeriano | THE PINES, YORKE PENINSULA | $10,000
Exploring watercolour, ink painting and other creative mediums
Visual artist Rachelle Plazeriano will undertake a residency at Ballara Art and Lifestyle Retreat in Warooka to develop new skills in en plein air watercolour painting, using inks and running art workshops. During the residency, Rachelle will be mentored by two artists and will undertake field trips to Yorke Peninsula locations such as Innes National Park to practice new skills.
CREATE GRANTS
Ninuku Arts | APY LANDS | $16,100
Aralya Project II
Ninuku Arts will take 10-12 senior artists to nearby homelands in the western APY Lands for a week to create six major collaborative paintings and a series of recordings of Tjukurpa (story) in Pitjantjatjara language. Known as bush painting trips, these on Country workshops are central to cultural maintenance, strengthening connection to story and place and rejuvenating a sense of belonging and present a rare opportunity for artists to work together and to recall and pass on Tjukurpa. Of the new works created, five of the paintings will be for exhibition and one will be retained in the Ninuku Arts the archive along with the recordings for future generations to learn from.
Lewis Major Projects | MOUNT BARKER | $30,000
SUM: We Are All Made Of Stories
Lewis Major Projects will undertake a creative development for a community-led, major dance theatre work at the Sir Robert Helpmann Theatre over one week in August 2023. Seven professional performing artists and 10 non-professional community performers will work together to create the work, led by choreographer/director, Lewis Major. Tentatively titled SUM, the conceptual underpinning of the work will be created from collated stories of regional South Australian communities, with a resultant work-in-progress sharing at the end of the week. SUM refers to the sum of a person's life, which will be represented in the work as a continually unfolding performance of moving tableaux, images, scenes and vignettes via a 10m diameter, continually-revolving stage.
Sue-Ellen Shepherdson | LOXTON | $29,190
Step by Step Together
Sue-Ellen Sheperdson will create a community dance program to explore the impact the creative arts has in the Riverland community, specifically questioning who, where and in what way do people dance, what this may do for their mental/physical wellbeing and if it assists in deepening relationships. The program will also investigate the effect of apps such as TikTok on bridging the gap between everyday use of dance and the way professional dance, attending classes or performing dance is perceived. Through embracing the use of these forms of technology, the Step by Step Together program aims to deepen connections between our youth and the older generation. Over the course of the dance workshops, a new dance and digital media work will be created and performed by the participants for the community.
First Nations Arts Group | PORT AUGUSTA  | $30,000
Pilot Program
The First Nations Arts Group, with support from the APY Art Centre Collective, will run a series of artmaking workshops in Port Augusta in 2023 with 20-30 established and emerging artists living in Port Augusta, as well as first-time practitioners. The workshops will offer these artists the support they need to create new artworks, develop painting techniques and learn about colour, composition and line. The works created during these sessions will predominantly be paintings, however there will also be a focus on tjanpi (grass and rafia) sculptural works, ceramics and works on paper. Artworks created will culminate in two group exhibitions to be presented at Yarta Purtli Gallery in Port Augusta and APY Galleries throughout 2023. Artworks will also be profiled at Australia-wide art markets and online through the APY Gallery website. These workshops will be a crucial first step in establishing an operational art centre in Port Augusta in the next 18 months.
PRESENT GRANT
Sarah Brokensha | MOUNT GAMBIER |  $45,882
Seven Little Wonders Regional Reach Tour
The grant will support the remount and tour of the regionally-created, professional theatre work Seven Little Wonders to 2,400 children from Lower Eyre Peninsula, Iron Triangle and Riverland communities from Feb 26 to March 14, 2024. Seven Little Wonders is a poetic, non-verbal, visual-theatre performance for 3-8 year olds incorporating motion graphics, live video projection, a rich music score and interactive lighting. It is intimate, immersive and interactive, with children from the audience playing complicit roles in the performance itself. It was devised in Mount Gambier over two years from 2020-2022 by high calibre, local theatre-makers Gavin Clarke, Sarah Brokensha and Anya McKee alongside conceptualist and director Dave Brown. Gavin Clarke also composed the music score for the production.