I Feel Like Writing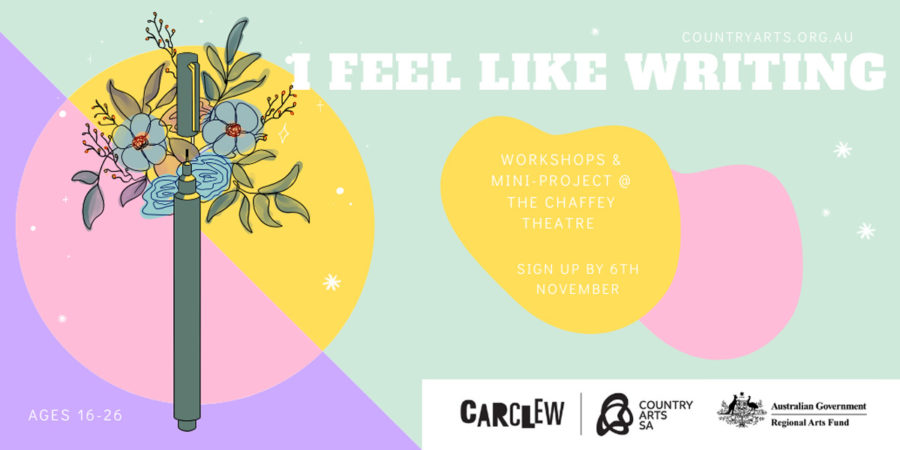 "Writing in a diary is a really strange experience for someone like me. Not only because I've never written anything before, but also because it seems to me that later on neither I nor anyone else will be interested in the musings of a thirteen-year-old school girl. Oh well, it doesn't matter. I feel like writing." – Anne Frank, 1942.
Everyone has stories, some large and some very small. Sometimes our seemingly small stories can have the power to become the most powerful.
This November, Country Arts SA and Carclew will bring together 10 young writers aged 16-26 living in the Riverland to document and explore their stories through a series of exploratory workshops.
I Feel Like Writing is a mini-project to engage with and inspire local young creative writers to share their words and perspectives about the world around them. The project parallels the upcoming Chaffey Theatre screening of Anne Frank: Parallel Stories and international travelling exhibition Anne Frank – Let Me Be Myself  as a launching point to explore what is meaningful to the lives of young people in the Riverland here and now.
Participants will begin their writing journey on 2pm, Sunday 8th November as they and Riverland facilitators attend the screening and exhibition of Anne Frank: Parallel Stories at the Chaffey Theatre.
They will then participate in a series of weekly workshops (Mondays 5:30 – 7pm on 9th, 16th, 23rd and 30th November), followed by a period of independent writing, mentor feedback from local writers Kirste Vandergiessen (she/her) and Stuart Watkinson (he/him), and with guest writer Roz Bellamy (they/them). The outcome of the project will be shared with an invited audience by the end of January 2021.
Applications close November 6, 2020. 
To express your interest to participate in I Feel Like Writing please fill out the form below. If you have any enquiries contact Alysha Herrmann by email [email protected].
Facilitating Artists
Kirste Vandergiessen (she/her)
Kirste is a Riverland-based digital illustrator and writer. She picked up a graphics tablet in 2014, found layer settings for overlays and glowing, and never looked back. Between drawing fan art of characters she holds dear, she's planning and writing a young adult novel about non-crystal-ball-wielding psychics.
You may have seen her work in the 2019 SALA Exhibition 'it starts with a spark~', on the wall of Bonney Theatre for the collaborative 'Letters to the Riverland' projection project or on her Instagram @flamedork.
Stuart Watkinson (he/him)
Stuart Watkinson is a high school teacher, writer, game designer, and podcaster. He has a great interest in mythology, sociology, culture and learning about people. He is the host and producer of Committee Quest podcast, where he and his friends play Dungeons & Dragons, laugh a lot and quote retro pop-culture. He is working on his first novel, a young adult fantasy tale. His day job deals with the facts of history but he moonlights in the realms of science fiction and fantasy. Creating worlds and telling stories that range from heroics to underworld conspiracies.
Roz Bellamy (they/them)
Roz Bellamy is a writer, editor and researcher passionate about storytelling, creativity, social justice and mental health.
Roz is a freelance writer, researcher and the online editor at Archer Magazine. They have written for The Big Issue, Crikey, Daily Life, Everyday Feminism, Going Down Swinging, the Guardian, Huffington Post, Junkee, Kill Your Darlings, LOTL Magazine, Meanjin, Overland, SBS,  Seizure, the Sydney Morning Herald and Ten Daily. Their writing has been published in Living and Loving in Diversity (Wakefield Press), Going Postal: More Than 'Yes' or 'No' (Brow Books) and Growing Up Queer In Australia (Black Inc.) They run writing workshops for all ages.
Roz has a Master of Teaching (Secondary) and a Bachelor of Communication (Creative Writing) with Honours, and is currently a PhD candidate at the Australian Research Centre in Sex, Health and Society at La Trobe University.
Roz has appeared at the Emerging Writers' Festival, the National Young Writers' Festival and the Melbourne Fringe Festival. They have been interviewed by ABC Radio Sydney, Joy FM, 3CR, Bent TV (Channel 31) and SBS, and on the podcasts Writes4Women, Queerstories, Transdemic and Dramageddon.