Helping a new generation reach for the stars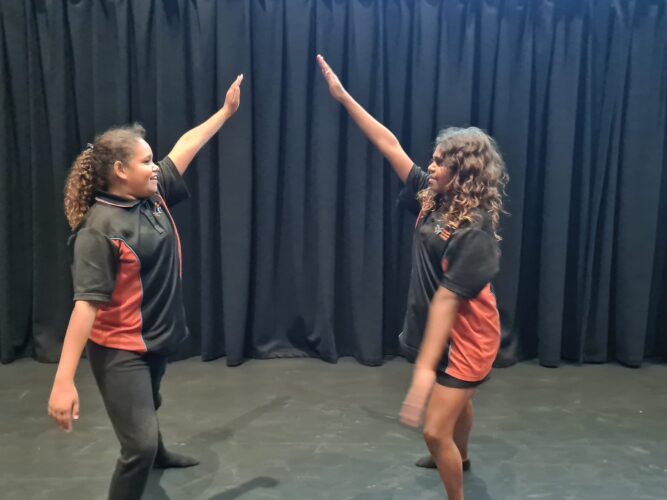 Image: Shooting Stars Tyla and Aya join in with an Australian Dance Theatre workshop at the Middleback Arts Centre, Whyalla.
The theatre can open doors to other worlds and new possibilities, but for some those doors are seen as a barrier.
Stacey Gray, Manager Shooting Stars Whyalla, was able to open those doors free of charge to take a group of young Aboriginal netballers to see Australian Dance Theatre's contemporary dance performance Outside Within thanks to donors to Country Arts SA's Tickets on Us program.
She said it was an empowering moment for them all.
"Many of our girls have not had the opportunity to go and watch a performance such as Outside Within and the experience was an amazing one for them," she said.
The Tickets on Us funding gave the girls the opportunity to see the ADT's performance on stage after participating in an ADT workshop the day before.
"The fact that the girls had a dance workshop with the performers the day before, to then to watch the performance, and have the dancers come out to greet the girls after, gave great connection for our girls," Stacey said.
"They were so excited to know the performers on stage; and to be recognised and engaged made them feel valued."
ADT's Dance Practitioner, Artist-in Residence and Learning Coordinator, Barkindji woman Adrianne Semmens, was on Outside Within's regional tour and ran the dance workshop with Shooting Stars.
"We (Australian Dance Theatre) had a beautiful time connecting with community whilst on our Outside Within regional tour," Adrianne said.
"We loved meeting the young people and families who joined us for our workshops offered in each town, sharing our passion for dance and introducing the themes of our work. Many workshop participants attended our performances through the generous Tickets on Us program, deepening their engagement. It was really special seeing the connections made between young audiences and the company dancers."
Growing access to theatre experiences to help communities thrive is at the heart of Country Arts SA's Annual Appeal and something close to philanthropist or self-confessed "person who gives back" Diané Ranck.
Diané's gift allowed the Shooting Stars to have this eye-opening experience.
"I liked the idea of Country Arts having this capacity to give the money where you want it to go," Diané said. "The whole point about Country Arts for me is giving people the opportunity that they can't have because they're not within the vicinity of main theatres; being able to go to the theatre and have a really professional experience.
"As a child I never had the opportunity to go to the theatre. For me, having the opportunity to see people do what I couldn't do, and enjoy it, is worth it. And not only young people but also the community as a whole because they don't always get the chance to see what is out there either.
"I was so impressed with everything that I want to do it again, and this is not a one-off thing. If we are going to give people the opportunity, they need to keep getting involved and keep having new opportunities, keep learning new things. One experience is not enough, it's about the journey. I think I'd also like with my philanthropy in five years is to see where some of those kids have gone and done by having had those opportunities.
"The opportunities and the different things you can grab hold of during those moments can stay with you for the rest of your life."
Stacey said this experience and the connections made would have a lasting impact.
"The girls continued conversations after about the many varieties of dance it encouraged them to continue or start dancing.  We are truly grateful for providing the opportunity for the girls to see the performance," she added.
The Country Arts Foundation and Country Arts SA deeply appreciate our donors to the Tickets on Us Appeal and for the philanthropic leadership of Diané Ranck
We are grateful for the partnership of community organisations and schools who help to extend the reach of the Tickets on Us program.
Together we can strengthen our communities.  Thank you for making a difference.
Make a donation