Grindell's Hut 2022 Applications are now closed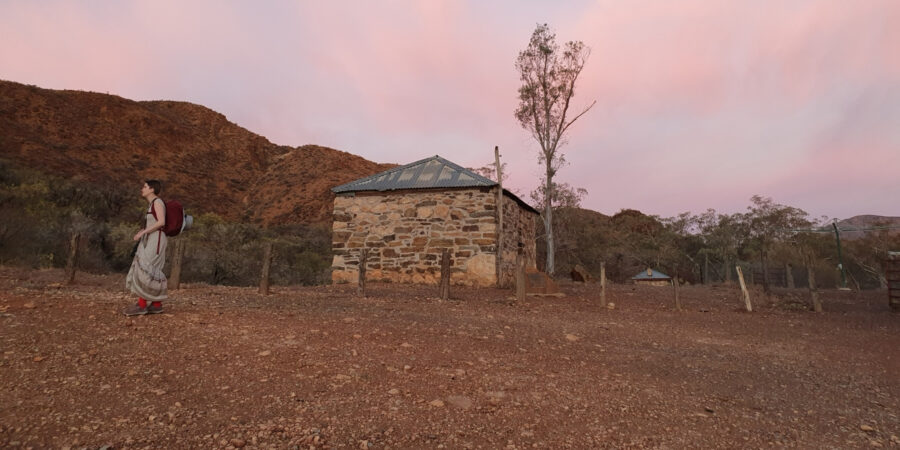 Country Arts SA is inviting artists from all disciplines to apply for a three-week residency this October at Grindell's Hut located in the heart of the Vulkathunha – Gammon Ranges National Park in the Northern Flinders Ranges.
Established more than 16 years ago, the vision for the residency program is to provide an environment of extraordinary natural beauty with historic significance for artists to pursue their practice while immersed in an outback environment. The park forms part of the traditional country of the Adnyamathanha people and is rich with cultural significance. It is also a haven for many rare and endangered plants and animals.
This year, the selection process is opened to artists of all disciplines nationwide.
Last year's Grindell's Hut Artist in Residence, Deborah Prior, said "The Grindell's Hut Residency has been a transformative and restorative experience for me. It has challenged and expanded my thinking and making processes in the studio; and heightened my awareness and appreciation of the natural world."
The Grindell's Hut Artist in Residence program is a partnership between Country Arts SA, and The Department for Environment and Water through the Vulkathunha‐Gammon Ranges National Park Co‐Management Board, and managed by Country Arts SA.
One artist nationwide will be selected to take part in the residency program which will run from 9 – 30 October 2022.
For more information including artist fee, Community Engagement, Terms and Conditions please click here
Expressions of Interest must be submitted either in person, by mail or electronically no later than 5:00pm Friday June 24, 2022, including all support material.
More details here
Applications are now closed.
Photo by Deborah Prior