Gemma Brook announced as 2023 Palace of Production recipient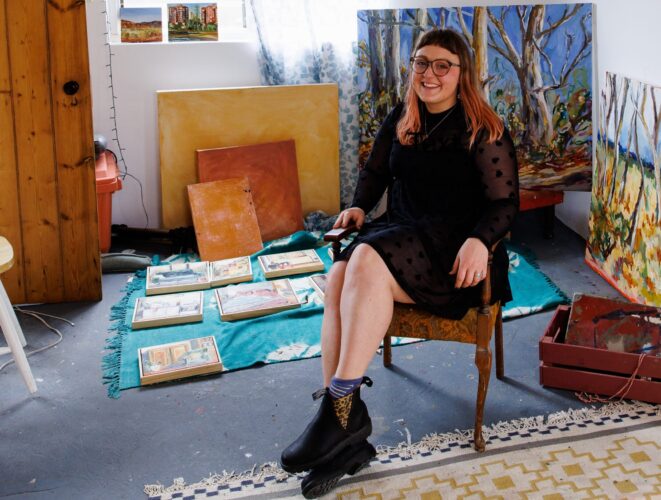 Photo by Rosina Possingham
Regional South Australian painter Gemma Brook has been awarded the 2023 Palace of Production residency and will spend four weeks immersed in the natural beauty of Kangaroo Island.
The residency honours the creative spirit of artist Cath Cantlon, who produced contemporary art and sculpture in her Palace of Production (P.O.P) studio, built behind the home she shared with her partner in Emu Bay, Kangaroo Island.
Based in the Adelaide Hills, Gemma's practice sees her painting from life, ghost gums against a red earth back drop, to the Hills Hoist clothesline and other familiar places of domesticity. Her paintings are gestural and rich in colour, creating a sense of urgency that speaks to her technical skill.
In 2019 Gemma graduated with a Bachelor of Visual Arts from Adelaide Central School of Art and since has established a strong emerging practice throughout South Australia and more recently New South Wales. In 2021 she spent time living in Pukatja (Ernabella) where she deepened her respect, connection and engagement with the environment. Her reflections resulting in a solo exhibition at Floating Goose Studios.
"This residency at POP alongside the KI community is invaluable to me," said Gemma. "As a young artist who paints experiences and environments from life it would be a rejuvenation for my practice to make within a new landscape at a key turning-point in my emerging career. The consecutive days to expand my thinking, make without expectation, connect to a new place, challenge my physical making stamina, grow my historical understanding of place and excel my practice are critical, rare and very exciting. I am very grateful for this opportunity."
In its fifth year, we are proud to fulfil Cath's legacy by continuing to support talented regional artists and provide them with the necessary resources to help them thrive in addition to connecting them with opportunities to showcase their work and engage with Kangaroo Island community and its artists. Brook will hold a free drawing workshop with Community Junction Australia in Kingscote during her time in residence as well as connect with the wider arts community digitally with a studio tour and artist talk.
Each year the residency provides a contemporary visual artist a desirable opportunity to immerse themselves in artistic exploration, reflection and seeding of new work in a well-equipped artist's studio within the tranquil, natural surroundings of Kangaroo Island.
A self-contained unit, adjacent to the P.O.P is provided for the four weeks of residency.
Since its inception in 2018, the Palace of Production (POP) residency has given artists Cynthia Schwertsik, Jane Skeer, Laura Wills and most recently Gail Hocking the freedom to test ideas and the inspiration to create a new body of work from their time on pristine Kangaroo Island.