Drawing from life: Artist Fran Callen reflects on Grindell's Hut Residency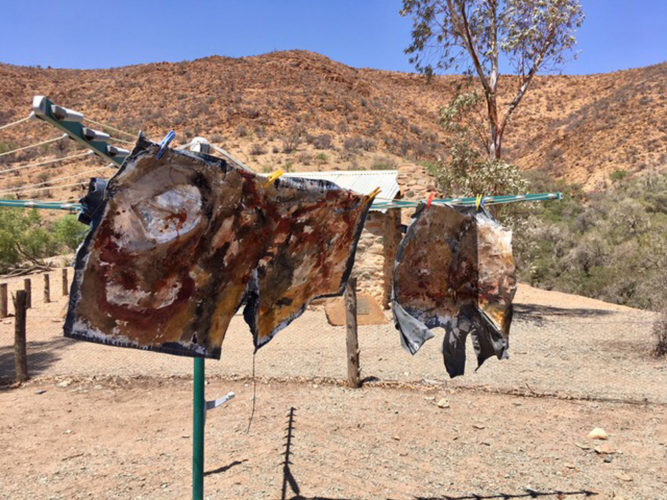 In May 2019, Country Arts SA called on artists nationwide from all disciplines to apply for a three-week residency at Grindell's Hut located in the heart of the Vulkathunka – Gammon Ranges National Park in the Flinders Ranges and Outback region of South Australia.
From 26 applicants, Adelaide artist Fran Callen was chosen. Fran is a celebrated artist who immerses herself in the life around her to capture little everyday instants that piece together daily existence and allow us to reflect on reality and fleeting moments.
As a child she accompanied her dad on Geological Mapping expeditions to remote areas of South Australia such as Lake Frome, Adnyamathanha country. She said Grindell's Hut was the "perfect residency for me".
Using all surfaces available to her, every corner of the hut up to the verandah became a studio. Every piece of packaging and even old clothes became a canvas.
Her aim was to reconnect with the land, the people, find ways of connecting the drawing process, mark making and the local geology, and also let this experience deepen and inspire her art practise in the future.
In Fran's words, read her narrative of her time at Grindell's Hut. READ HERE.
Established more than 15 years ago, the vision for the residency program is to provide an environment of extraordinary natural beauty with historic significance for artists to pursue their practice while immersed in an outback environment. The park forms part of the traditional country of the Adnyamathanha people and is rich with cultural significance. It is also a haven for many rare and endangered plants and animals.
The Grindell's Hut Artist in Residence program is a partnership between Country Arts SA, and The Department for Environment and Water through the Vulkathunha‐Gammon Ranges National Park Co‐ Management Board, and managed by Country Arts SA.