Expressions of interest are now open for the Country Arts SA Regional Artist Residency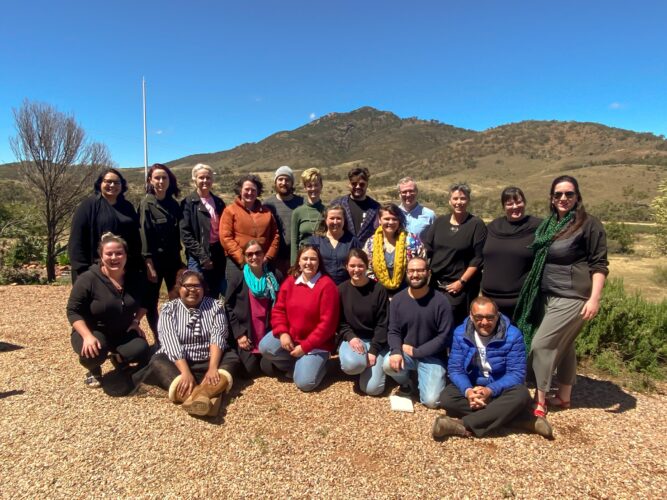 Image: Last years participants
Country Arts SA are calling for applications from regional South Australian performing arts practitioners in the Adelaide Hills, Barossa, Limestone Coast and Riverland regions for the Artist Residency to be held at Tarooki in Robe from December 2-4, 2022.
This three-day, two-night event provides a supportive, creative environment to test ideas, consider new collaborations and explore cross art form possibilities.
This is an opportunity for writers, choreographers, dancers, directors, actors, theatre makers, designers and multi art form artists to come together and explore new project ideas. Applications welcome from:
People at the start of their artistic practice
Senior artists with significant experience
Mid-career artist
Collaborative teams (up to 3 members) working together on a single concept who should apply under the name of whomever is the lead artist on the project.
A range of highly skilled mentors from different arts practices across Australia are provided to inform project development. Last year's inaugural retreat included Julian Hobba State Theatre Company SA , Sally Richardson Performing Lines WA and Paul Gazzola Open Space Contemporary Arts (OSCA).
Expressions of interest will be reviewed by a curatorial panel who will take into consideration the calibre of the artist, the quality of the idea and a range of other balancing issues including art forms, geography, and experience to ensure the right mix of people for a vibrant weekend.
Note: Whilst the residency is heavily subsidised each successful applicant will be required to pay a deposit of $400 to secure their spot of which $335 is fully refundable after attendance at the Residency and completion of the debrief survey. Applicants experiencing financial difficulty should contact Jade Ranson, Associate Producer, [email protected]
Get a feel for the residency by watching this:

Expressions of interest close 5pm Wednesday 27 July, 2022.
Successful applicants will be notified by Friday 12 August, 2022.
If you're nervous or unsure if the residency is for you, please email Jade Ranson, Associate Producer, [email protected] to discuss.
To apply complete this Expression of Interest form:
Original residency concept developed by Performing Lines Tas, part of Performing Lines, and supported by Arts Tasmania.