Case Study: D'faces of youth arts inc. – Aerial Skills Development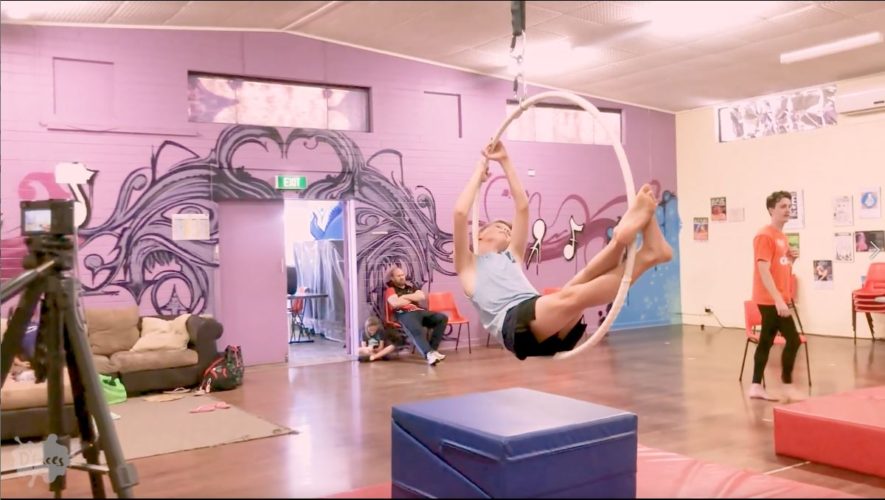 Image "Sitting in the Moon" photo by Matilda Sweeney
Project Summary
Based in Whyalla, SA, D'faces of youth arts supports young people to get involved in the arts. The Aerial Skills Development project was a collaboration between Cirkidz, Eyre Gymnastics and D'faces of youth arts. The aim of the project was for the participants to learn advanced skills on aerial equipment and develop video resources that would enable continued learning.
Project Type – Professional Development
Artform – Circus
Amount Funded – $2,251
Primary Beneficiary – Children 0 -14
Key Project Outcomes
Future collaborations and resource sharing between the two groups as well as the successful creation of an instructional video of the workshop were two key outcomes.
One of the great strengths of this project was its ability to connect organisations. Both Eyre Gymnastics and D'faces are Whyalla organisations that provide great opportunities for young people and this project has helped to connect them.
Public Outcomes
The official launch of the video attracted an audience of young people, many that hadn't used aerial equipment before.  A practical circus skills class was delivered at the launch, using the video. It was well-received with strong praise for the clear and simple showcase of the tricks. The launch event proved the effectiveness of the video as a teaching tool.