VIETNAM - ONE IN, ALL IN
Presented by Country Arts SA
VIETNAM – ONE IN, ALL IN is a contemporary exhibition that explores, expresses, and acknowledges Aboriginal veterans service before, during and after the Vietnam War.
Featuring a collection of works by twelve Aboriginal artists, the exhibition acts as a collective response to our current need to uncover and give voice to those to those who have remained silent throughout history.
The ten selected artists have creatively responded to the recorded interviews of ten Aboriginal veterans from South Australia. An additional two artists were also commissioned to create work in acknowledgement of the service of South Australia's Aboriginal Vietnam veterans – both living and passed.
Together, the works capture the personal stories and military history of our Aboriginal veterans – inviting us to pause, reflect, recognise and honour our South Australian Aboriginal veterans. We can learn a lot from their stories, taking a lead from the Australian Army and Navy where it was and still is, one in all in.
For Country, for culture, for the ones that survived, and the ones who didn't make it home, we acknowledge, we honour and we remember them.
Curated by Jessica Clark
Artists: Allan Collins, Brad Darkson, Beaver Lennon, Hayley Millar-Baker, Clem Newchurch, Lavene Ngatokorua, Sandra Saunders, Damien Shen, Major Sumner AM, James Tylor, Tony Wilson, and Raymond Zada.
Veterans: Private Francis Howard Clarke, Corporal Gordon Joseph Franklin, Private Gilbert George Green, Corporal Leslie Brian Kropinyeri, Lance Corporal Kenneth Cleland Laughton, Sergeant Jeffrey Phillip McCormack, Seaman Ivan Clyde McKenzie, Lance Corporal John Anthony Parmenter, Craftsman Richard Edward Sansbury, Stewardess Marjorie Tripp AO.
Portrait Photographer
Colleen Strangways

Exhibition catalogue on sale now
Postage included in price of sale.
Click to purchase catalogue
Allan Collins
Wulli Wulli / Arrente
Allan Collins is an established cinematographer and director with a wide-ranging background including photography and television. He now also records sounds to enhance the imagery. Allan's creative practice prioritises community collaboration and is driven by processes. He has a distinct passion for social documentaries, but also enjoys telling fictionalised stories. Allan's dedication to community, to sharing our stories, and uncovering historical truths are central to his work – conjuring emotive connections in his audience through his creative approach to visual language, dialogue and soundscapes.
Allan created work in response to Ivan McKenzie's service and stories for VIETNAM – ONE IN, ALL IN.
Seaman Ivan Clyde McKenzie (R107836)
Born on 8 October 1951, Ivan joined the Royal Australian Navy and trained as an engineering mechanic. His service in Vietnamese waters was aboard the Daring-class destroyer HMAS Vendetta between 28 October and 12 November 1970, while she was escorting the troopship HMAS Sydney. This occurred immediately after Vendetta had been on a Far East Strategic Reserve deployment.
Brad Darkson
Narungga
Brad Darkson is a South Australia based artist, working across various media including paint, resin, sound, sculpture and installation. His current practice explores themes such as identity, ritualised human behaviour, memory, pilgrimage and technology. Conceptually, strong ties to both his Anglo-Australian and Narungga First Nations heritage often inform Darkson's work.
Brad created work in response to Bart Sansbury's service and stories for VIETNAM – ONE IN, ALL IN.
Craftsman Richard Edward Sansbury (4411108)
Born on 7 December 1948 at Wallaroo, Richard joined the Army and served in the Royal Australian Electrical and Mechanical Engineers, who are responsible for the repair and maintenance of vehicles and equipment. His time in Vietnam was spent with the 102nd Field Workshop from 2 July to 4 October 1968, and 1st Armoured Squadron Workshop from 5 October 1968 to 2 July 1969.
Beaver Lennon
Mirning / Antikirinjara
Beaver Lennon is a contemporary artist living in Ceduna and working out of Ceduna Arts & Cultural Centre. Story-telling is central to his practice and ranges from portrait painting to pottery and most recently, Hebel sculpture. Beaver's earlier work was inspired by his grandmother's Dreaming stories of the Bunda Cliffs along the Great Australian Bight in South Australia, though his practice now is heavily influenced by his grandfather's Dreaming of Malu Tjuta (many kangaroos). He has been working since 2005 to master his unique and realistic painting style. His landscapes capture the distinctive open skies and vast expanses of Country with an extraordinary degree of depth that invite viewers to see through his eyes.
Beaver created work in response to Tony Parmenter's service and stories for VIETNAM – ONE IN, ALL IN.
Lance Corporal John Anthony Parmenter (4411100)
Born in Adelaide on 19 January 1941, John joined the Army in July 1966, serving in the Royal Australian Engineers. He served in Vietnam with the 1st Field Squadron, Royal Australian Engineers from 26 September to 15 October 1967. After returning to Australia he discharged from the Army in July 1969.
Hayley Millar-Baker
Gunditjmara
Hayley Millar-Baker's contemporary approaches to photography draw strength from her Gunditjmara bloodlines, history and the landscape – confronting and crafting past, present and future stories of South-Eastern Aboriginal existence while honouring the connectedness of intergenerational experiences of Aboriginality. Hayley's works draw from her grandfather's archive, family albums, and her own treasured moments captured on and off Country. Through the application of digital technologies, Hayley aligns disparate times and places by meticulously layering, cutting and recontextualising imagery to tell alternative stories and histories. Hayley's photographic assemblages critically explore cultural practices and knowledge. They enact a powerful social commentary that acknowledges the strength and resilience of Aboriginal Australians, reimagines what could have been, and reveals their complexities.
Hayley created work in response to Aunty Marj's service and stories for VIETNAM – ONE IN, ALL IN.
WRAN Steward Marjorie Anne Tripp AO (R85750)
Marj was born on 13 January 1946 at Adelaide. She joined the Women's Royal Australian Naval Service of the Royal Australian Navy on 9 September 1963 and trained as a WRAN Steward at HMAS Cerberus. She is believed to have been the first Aboriginal woman to serve in the Navy. On 4 June 1964, she was posted to HMAS Albatross at Nowra, New South Wales. She discharged from the Navy on 13 March 1965. Later in life, Marj was Chair of the Aboriginal and Torres Strait Islander War Memorial Committee that planned and fundraised for the construction of the memorial that now stands at the corner of the Torrens Parade Ground in Adelaide. For her distinguished service to the Indigenous community through promotion for improved aged care and health outcomes, and recognition of Indigenous Australians in the armed forces, Marj was appointed as an Officer of the Order of Australia in 2014.
Clem Newchurch
Narungga / Kokatha / Kaurna
Clem Newchurch is an emerging artist who works across multiple mediums including; weaving, carving, installation and video. He has family links to the Barngarla and Ngarrindjeri nations and has used a Kaurna style weaving to create string used for net-making, fishing line or binding spear tips. He also makes Kaurna style reed spears and shields. He is currently investigating diverse techniques and styles of fishing equipment, working to recover and revive cultural practices that would have been used by his ancestors. Clem also has experience working with digital art forms such as film-making, writing and directing. He directed a successful short documentary series recently aired at the Adelaide Film Festival and on NITV.
Clem created work in response to Jeff McCormack's service and stories for VIETNAM – ONE IN, ALL IN.
Sergeant Jeffrey P McCormack (423703)
Jeff was born on 3 February 1944 in Adelaide. He joined the Royal Australian Army in 1966 and was trained as an infantry soldier. Jeff served in the 3rd battalion in Malaysia in 1973–1974. Malaysia was meant to be a peace-keeping mission while the Vietnam War was still going, but the environment in Malaysia was still very hostile. Jeff became an instructor of recruit and promotion courses, and has worked in places like Larrakeyah Barracks Northern Territory, Army Recruit Training Centre Kapooka NSW, 2 Training Group in Ingleburn NSW and 4 Training Group in Adelaide. Jeff has trained well over 3000 soldier over the years.
Lavene Ngatokorua
Wangkanguru / Adnyamathanha
Lavene Ngatokorua was born in Port Augusta and grew up at Umeewarra Mission Children's Home.  For her life-long efforts for her Community, she was awarded the 2018 Port Augusta NAIDOC Lifetime Achievement Award, and in 2015 she was a dual winner of the Premier's NAIDOC Award. In addition to her community work and balancing her various roles, Lavene is an artist and curator living and working in Port Augusta. There she has established a contemporary practice focused on exploring and expressing her cultural connections and strong humanitarian beliefs. Lavene uses the mediums of painting and photography to produce works that are at once very political and culturally powerful. Her diverse works captivate and transport viewers to different times, places and spaces – depicting visual stories of family, culture and history, and her own personal journey and strong cultural beliefs.
Lavene created work in response to Frank Clarke's service and stories for VIETNAM – ONE IN, ALL IN.
Private Francis Howard Clarke (43442)
Born on 25 September 1946 at Bordertown, Frank served in Vietnam from 12 May 1966 until 12 May 1967 with the 5th Battalion, Royal Australian Regiment. His unit was initially involved in securing the 1st Australian Task Force base area at Núi Đất, before being part of the response force following the Battle of Long Tan. This was followed by a number of other operations in Phước Tuy Province. During the battalion's tour, losses included 27 killed.
Sandra Saunders
Ngarrindjeri
Sandra Saunders was born in Millicent but currently lives in Wangary on Eyre Peninsula South Australia. She is a sought-after multidisciplinary artist working across the mediums of painting, sculpture, mixed media and installation. Her contemporary practice engages in a socio-political commentary, communicating historic narratives, highlighting contemporary activism, and telling stories of continued colonial resistance. Her work often uses dark humour to draw attention to serious issues. As a champion of Aboriginal rights, she played a major role in protesting the building of the Hindmarsh Island Bridge. She created a series of 32 paintings in response to the destruction of Aboriginal Women's sites and the community debate; each painting represents Sandra's version of the debate and how it unfolded.
Sandra created work in response to Gill Green's service and stories for VIETNAM – ONE IN, ALL IN.
Private Gilbert George Green (2791899)
Born on 9 October 1949 at Kyogle, New South Wales, Gil was a volunteer National Serviceman who served in Vietnam on the second tour of the 7th Battalion, Royal Australian Regiment, alongside Allan Aldenhoven. Gil was in Vietnam from 16 February to 17 December 1970, during which time his unit participated in Operation Concrete in April–May, and Operation Cung Chung in conjunction with South Vietnamese forces over the remainder of the year.
Damien Shen
Ngarrindjeri
Damien Shen is a South Australian man of Ngarrindjeri and Chinese bloodlines. His artistic practice is embedded in histories, revisiting the people, places and stories that shape the world he occupies. Damien constantly pushes his practice across different mediums – from time-consuming, labour-intensive drawings and paintings to bleeding watercolours, printmaking and photography. His practice is an outlet for him to better understand his identity and the identity of those that help to shape the world he lives in while making art that remains relevant to contemporary Australian issues around race, history and politics.
Damien created work in response to Les Kropinyeri's service and stories for VIETNAM – ONE IN, ALL IN.
Corporal Leslie Brian Kropinyeri (4719106)
Born at Tailem Bend, on 22 August 1946, Les was a conscripted National Serviceman. He served in Vietnam with the 9th Battalion, Royal Australian Regiment between 13 November 1968 and 17 March 1969, on the same tour as Jeff Duroux. During its tour, Les's battalion participated in 11 major operations, suffering casualties including 35 killed.
Major Sumner AM
Ngarrindjeri
Major ('Uncle Moogy') Sumner AM is a senior elder of the Ngarrindjeri people of the Coorong in South Australia. His artistic practice is focused on continuing and reinvigorating cultural practices by creating Ngarrindjeri objects such as spears, shields and canoes with the aid of contemporary technologies. Uncle Moogy's contribution to public life spans groups promoting Aboriginal health, social welfare, youth and cultural heritage. His community activism and commitment to continuing and sharing Ngarrindjeri culture is driven by his aim of showing the Australian people that Aboriginal culture is about sharing and working together for the benefit of the whole community. He was appointed as a Member of the Order of Australia in 2014 for his many decades of service to the Indigenous community.
Uncle Moogy was commissioned to create an honour roll for all South Australian Aboriginal Vietnam veterans for VIETNAM – ONE IN, ALL IN.
James Tylor
Nunga (Kaurna)
James Tylor was born in Mildura and explores Australian cultural representations through his multi-cultural heritage. He is an interdisciplinary artist who has established a practice that examines concepts around cultural identity in Australian contemporary society and in social history. His work focuses largely on the 19th century history of Australia and its continual effect on present day issues surrounding cultural identity and representation in Australia. James specialises in experimental and historical photographic processes using a hybrid of analogue and digital photographic techniques – physically manipulating digital photographic prints or creating new and contemporary daguerreotypes with the aid of modern technology. His photographic works are driven by his love of research, uncovering histories and re-learning cultural practices.
James created work in response to Kenny Laughton's service and stories for VIETNAM – ONE IN, ALL IN.
Lance Corporal Kenneth Cleland Laughton (44944)
Kenny was born on 3 May 1950 at Alice Springs, and joined the Army's Royal Australian Engineers. His service in Vietnam was with Headquarters Australian Forces Vietnam and 1st Field Squadron between 30 July 1969 and 4 March 1971. The 1st Field Squadron's tasks in Vietnam in support of the infantry, included creating field obstacles and fortifications, laying and clearing mines and booby traps, and clearing tunnel systems.
Tony Wilson
Narungga / Ngarrindjeri
Tony Wilson is a contemporary artist based in Adelaide. He creates intricate and evocative artworks that explore themes of identity, collective resonance and connectedness. Heavily influenced by his cultural heritage, interactions with people and Country, Tony's work propels us to "the space between our thoughts". They call us to identify ourselves by our inner-selves, our essential core beings, and to use them to interpret and filter the outer layers that build us: our culture, our personality and our emotions. Self-empowerment is a central theme in Tony's artistic practice, which is focused on painting and inspired by the special moments that make you pause, and bring you into the present. He is passionate about sharing knowledge and connecting with young people through his work as an artist-in-residence at a local school where he leads a youth art mentoring program.
Tony created work in response to Gordon Franklin's service and stories for VIETNAM – ONE IN, ALL IN.
Corporal Gordon Joseph Franklin (43581)
Born at Cook in the far west of South Australia on 24 April 1945, Gordon joined the Army in 1964 and was a member of the Royal Australian Corps of Signals, which installs, maintains and operates Army communications equipment. Gordon did two tours of duty in Vietnam, first with the 103rd and 104th Signal Squadrons between 12 December 1966 and 28 November 1967, and then with the 110th Signal Squadron between 16 April 1969 and 30 April 1970. He discharged from the Army later that year.
Raymond Zada
Barkindji
Raymond Zada is an Adelaide-based visual artist who grew up in Port Augusta and Marree, South Australia. He has developed an experimental practice imbued with a distinct spirit, hope and power. Primarily working with photography, video and digital design, Raymond reflects on contemporary attitudes towards, and the language used about, Aboriginal people. He responds to the widely held pre/mis-conceptions about what an Aboriginal person looks like and the expectations that arise from that. Through his clever use of social commentary and the prioritisation of audience engagement developed through 13 years of award-winning experience in radio broadcasting, Raymond's practice seeks to give voice to change, to deliver a message by provoking curiosity and inviting an open-dialogue.
Raymond was commissioned to create a social commentary piece for VIETNAM – ONE IN, ALL IN.
Jessica Clark, Curator
Jessica Clark is a proud Palawa woman with English, Irish, Turkish, and French ancestry, currently living and working between Melbourne and Adelaide. She is a curator, arts manager, and writer with an independent practice that is driven by her distinct passion for sharing knowledge and cross-cultural engagement. Her curatorial projects have focused on promoting new dialogues, challenging preconceived ideas/ideals, and exploring the transformative and performative nature of art and contemporary curatorial practice. Recent exhibitions include All of us (2018) at Blindside Gallery; standing still: looking back, looking forward (2018) at Incinerator Gallery; and Tell for the Sydney Festival (2018) and Ballarat International Foto Biennale (2017). Her writing portfolio is diverse and has been published through platforms such as Art Collector, Photofile, and Catalyst Magazine. As well as her role curating VIETNAM – ONE IN, ALL IN, she is also curating RMIT University's large-scale public art commission, Wurrunggi Biik – Law of the Land (2019). Jessica is alumna of UNSW College of Fine Art, Australian Catholic University and RMIT University, having completed a Bachelor in Art Theory, postgraduate studies in Visual Art Education, and a Master of Arts Management respectively.
Read what Jess has to say about the exhibition here. 
Lee-Ann Buckskin, Creative Producer
Lee-Ann Buckskin is a Narungga, Wirangu, Wotjobaluk woman from South Australia, and is very well known throughout the Australian Indigenous and international arts communities. Having worked across many major international festivals and art practices, she has won numerous prizes for her contribution to the arts, including the Gladys Elphick Award for community contribution and the prestigious Sidney Myer Facilitator Prize. She has been awarded the South Australian Ruby Award twice, Best Community Work and the Geoff Crowhurst Memorial Award in 2016 for her contribution to the state. Lee-Ann is the first Aboriginal woman to be appointed as Chair of the Aboriginal and Torres Strait Islander Arts Board in 40 years and is the first Aboriginal person to hold the Deputy Chair on the board of the Australia Council for the Arts. She is the Chair of Tarnanthi, the Festival of Contemporary Aboriginal and Torres Strait Islander Visual Art. She is a member of the Country Arts SA Aboriginal Advisory Committee and an independent Director of the Ku Arts Board for remote and South Australian art centres and artists. Lee-Ann's current position is Executive Consultant for the Aboriginal Screen Strategy with the South Australian Film Corporation. She also advises on scripts for both national and international TV and feature films including work for Warner Brothers and HBO. She is the Creative Producer of Country Arts SA's three-year Aboriginal Diggers Project. A public artist, she was the Aboriginal designer for the National Aboriginal and Torres Strait Islander War Memorial, Adelaide.
Samantha Yates, Executive Producer
Samantha Yates is the Executive Producer of VIETNAM – ONE IN, ALL IN. She has been in this role for the entirety of the three-year project, working in her position at Country Arts SA to manage and produce the short film Coming Home, and develop the new play, Mi:Wi 3027. Samantha is also the Cultural Programming Manager of Aboriginal and Reconciliation programs for Country Arts SA – working with communities across the state with the Aboriginal Programs team to support South Australian Aboriginal communities in their arts and cultural aspirations. She has a background in media and performing arts and has always had a passion for the role of arts in community development, in particular performing arts. In 2006, she was appointed by the Minister assisting the Premier in the Arts, the Hon John Hill MP, as a Board member on the South Australian Youth Arts Board (Carclew Youth Arts). In 2008, she graduated with a fellowship from the Governors Leadership Foundation Program where she was able to learn more about the issues and potential of the state of South Australia. Samantha is Australian born with English, Irish, Scottish and Aboriginal (Taungurung) heritage.
Marika Davies, Curatorial Intern
Marika Davies is a proud Wangkangurru woman of the Simpson Desert, Birdsville area. She is an educator, emerging artist and curator currently living and working in Port Augusta, South Australia. Her interest in pursuing a career in curating has developed organically through her love and passion for art and its history, and wanting to give back to her community in Port Augusta who nurtured her passion and cultural growth. She is intent on a curatorial career continuing her history of work within the community and education sector. Marika's focus is Aboriginal art, its history, development and future, as well as the multicultural and dynamic nature of contemporary art. Recent artistic achievements include 'Artist of the Year' for NAIDOC Week 2016 in Port Augusta, and first place for the Malka Prize in 2011. As a curatorial associate for VIETNAM – ONE IN, ALL IN, she has actively assisted throughout project development, gaining experience that will springboard her career as an emerging curator and cultural leader.
Ashley Pompey, Curatorial Intern
Ashley Pompey is a Koakatha and Wirangu man from the far west coast region of Ceduna in South Australia. He is an emerging artist who has always had a natural feel for dot art, prioritising both time and patience to develop a unique painterly style that features intricate and complex designs that portray his interest in and knowledge of mammals and reptiles local to his Country. Most recently, he won the Port Augusta Malka Art Prize (2018) and its 'People's Choice Award' (2016/2018), and Country Art's SA's 'Development Award' for Our Mob (2016). This recognition has motivated Ashley to extend his artistic practice through skills development, and carve-out a career trajectory towards curating. Ashley is also a member of the KU Arts Board as a Director representing his regional area in South Australia. He has worked with the project team for VIETNAM – ONE IN, ALL IN as a curatorial associate – assisting with research and development, extending his skills and networks, and growing his curatorial knowledge and experience, and cementing his cultural leadership aspirations.
This education pack has been developed with a focus on critical and creative research and inquiry to encourage students exploration of the artworks and stories in the exhibition.
Activities have been organised in Band Descriptions, however all activities can be easily adapted to suit a range of learning levels and styles including senior levels. Most activities shave been designed to be completed over multiple lessons – activity duration will be dependent on class structure and range of learning levels and styles.
For more information please contact Executive Producer Sam Yates on 8444 0402 or [email protected]
To download the education packs, click the buttons below.
Primary education pack
Secondary education pack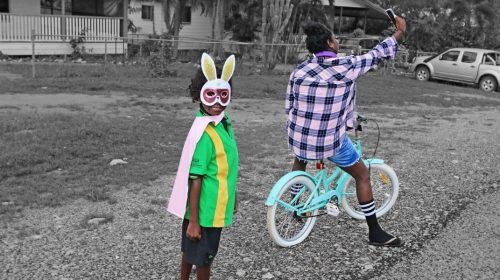 3rd March 2023 — 1st September 2023
Naomi Hobson's Adolescent Wonderland is a series of photographs that tell the real-life story of young Aboriginal people in remote Australia
View event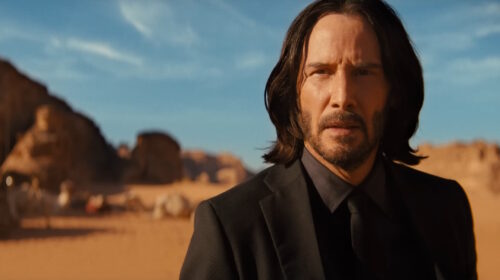 25th March 2023 — 1st April 2023
Strong action violence
John Wick (Keanu Reeves) takes on his most lethal adversaries yet in the upcoming fourth installment of the series.
View event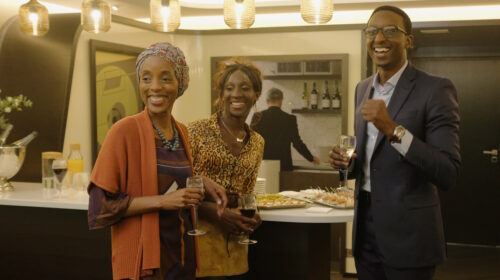 25th March 2023 — 2nd April 2023
Coarse language
Presented by Country Arts SA
Follows Angèle, a young undocumented woman in her thirties who lives on the outskirts of Paris.
View event