Case Study: Cait Wait – as far as a life goes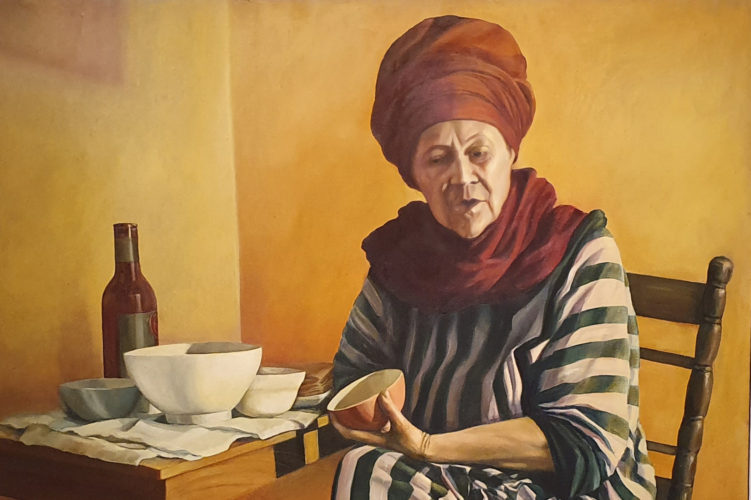 Image credit: Cait Wait, Sal, 2017 (after 1600's Dutch painting style)
Project Summary
Visual artist Cait Wait left her studio in the remote regional town of Beltana to research, listen to and prepare working drawings of her portrait subjects. In 2019 Cait travelled to Melbourne, Canberra, Alice Springs, and Burra and Elliston in SA. As part of the collaborative process, each subject shared with Cait a selection of images which were meaningful to their lives. This provided the artist with an entry point to explore the subject and create the portrait. The works were completed back in her Beltana studio and a collection of ten narrative portraits resulted, which were exhibited at the M16 Artspace in Canberra ACT.
Project Type – Professional development for artists and arts workers
Artform – Visual Arts
Amount Funded – $5000
Primary Beneficiary – Artists and arts workers
From the Artist
"The grant enabled my travel to research and move into my subject's lives and different environments, away from the isolation of my Beltana studio. A key lesson I learned was how to face the fear of failure, and keep working on the paintings to completion. The paintings prove the strength of the concept of the project, because they are as interesting, individual and diverse as each of the subjects who collaborated with me."
Public Outcomes
As well as the exhibition of work, Cait gave several impromptu artist talks in the gallery. A large audience viewed the exhibition, due to M16's established reputation and networks in Canberra and beyond.
"I was hoping to feel acknowledged at a professional level for my work, with some monetary return, and to experience the responses and feedback from a wider community, and make new connections. I have not been disappointed with these outcomes, which will be ongoing."