Case Study: Adelaide Hill Council & Fabrik – Weaving Stories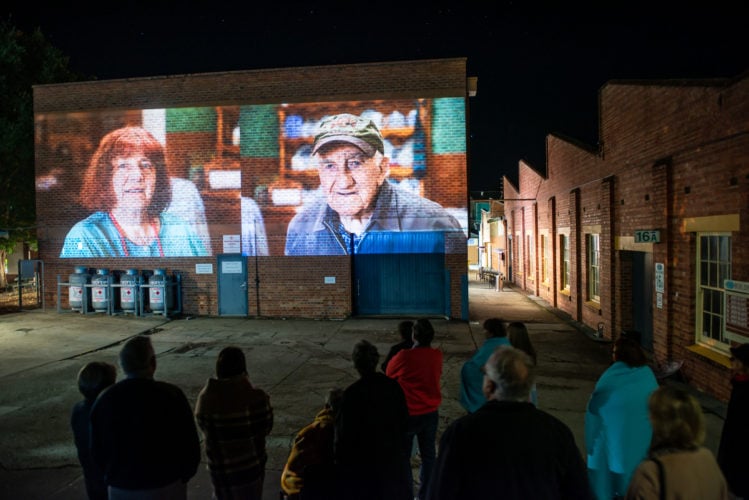 Image: Weaving Stories Installation, photo by Sam Oster, 2019
Project Summary
Fabrik is an arts and heritage hub set in the former Onkaparinga Woollen Mill precinct in Lobethal. During a four week residency, Cad Factory artist Vic McEwan connected with former workers from the Onkaparinga Woollen Mill and recorded recollections of their working lives at the mill. These stories were combined with historic and contemporary photographs and developed into video projections. A performative installation was then presented at the Mills as part of the South Australian History Festival.
Project Type – Community capacity building project
Artform – Digital media
Amount Funded – $15,475
Primary Beneficiary – Older People
Key Project Outcomes
The connections made between Fabrik and the local community, especially the former mill workers, was an aspect that project team were excited by. The interviews and re-telling of the mill workers' stories proved a valuable exercise in trust. This regional community has contributed to the beginnings of a unique connection between art, community and history that will provide a sturdy platform for future creative projects. A connection with volunteers and mentoring opportunities were other significant outcomes.
Public Outcomes
Connection with new audiences, engaging artists with the community and offering them an interactive, creative and moving experience that related directly to their lives are some of the dynamic public outcomes that the Regional Arts Fund Step Out grant program has supported the Adelaide Hills Council and Fabrik to achieve. The structure of the performance required considerable assistance including set up, technical support and hospitality. A team of volunteers were required each night and while this required some intense volunteer recruitment (Fabrik's first volunteer callout) they had strong support and now have warm relationships with new volunteers.