Naomi Hobson: Adolescent Wonderland
"Today photography needs to push the boundary. I feel it doesn't need to be picture perfect and as a fine art – I'm using the medium to tell real stories that I feel don't get told or haven't been told. I want people to see who our youth really are: fun, playful, smart, savvy, proud, adventurous and witty." – Naomi Hobson
Naomi Hobson is a Southern Kaantju/Umpila woman who lives in Coen, a small town of 360 people in the centre of Cape York Peninsula in far north Queensland. A multidisciplinary artist, she regularly works across the mediums of painting, ceramics and photography. Inspired by her immediate environment, Hobson's works express her ongoing connection to Country and her ancestors' ties and relationships with their traditional lands.
Through her work, she references her family's political and social engagements as well as her own personal engagement with her Country and community. In Hobson's photographic series Adolescent Wonderland, she is working to empower young people in her community, to encourage them to be themselves and to celebrate their uniqueness.
Adolescent Wonderland is a series of photographs that tell the real-life stories of young Aboriginal people in remote Australia. The title of this series was inspired by the classic children's novel Alice's Adventures in Wonderland by Lewis Carroll. Themes of youth, playfulness and childhood memories are evident in Hobson's photographs. The brightly coloured figures and their props lure the viewer into a dream-like reality, much like the way Alice follows the white rabbit.
"I think young people are getting crazy adventurous with all the apps and photo settings in their mobile phones. This is certainly highlighting their personal characters. They're just really connecting with how they want to share their story … Young people are so advanced in using technology and they also love getting their photos taken, but let them show you their story, their way; that's what Adolescent Wonderland is all about." – Naomi Hobson
Adolescent Wonderland will tour 11 regional galleries in South Australia from December 2021 until October 2023.
Image: Naomi Hobson, Southern Kaantju/Umpila people, Queensland, born 1978, Coen, Queensland, Road Play "She told Mum she was taking me for a ride down the road but she not." Laine., from the series Adolescent Wonderland, 2019, Coen, Queensland, digital print on paper, 81.0 x 110.0 cm; Courtesy the artist and Redot Fine Art Gallery, © Naomi Hobson/Redot Fine Art Gallery.
This regional South Australian tour is presented in partnership with the Art Gallery of South Australia and Country Arts SA. Adolescent Wonderland series was first commissioned by the Cairns Art Gallery with funding from the Queensland Government through the Arts Queensland Backing Indigenous Arts initiative. The current, expanded exhibition was created for Tarnanthi, presented by the Art Gallery of South Australia with Principal Partner BHP and support from the Government of South Australia.
Naomi Hobson is a Southern Kaantju/Umpila multi-disciplinary artist who lives in Coen, Cape York Peninsula, Far North Queensland. Hobson has been a finalist three times in the Telstra National Aboriginal and Torres Strait Islander Art Awards, in 2014, 2015 and 2016, and winner of The Alice Prize in 2016.
In 2019, Hobson created the series Adolescent Wonderland for Cairns Art Gallery
and exhibited the expanded edition at the Art Gallery of South Australia for Tarnanthi, Open Hands exhibition in 2020. Working with the Australian Tapestry Workshop in 2021, Hobson's painting The Royal Harvest was produced as a tapestry for the Embassy Tapestry Collection on loan to the Australian Embassy to Indonesia, Jakarta.
She is represented by Queensland Art Gallery and Gallery of Modern Art, National Gallery of Victoria, National Gallery of Australia, Art Gallery of South Australia, Museum and Art Gallery of the Northern Territory, Museum of Contemporary Art, Bendigo Art Gallery, Shepparton Art Museum and Cairns Art Gallery. Hobson's work is held in significant public and private collections nationally and internationally.
Online Educator Briefing: Naomi Hobson
Wednesday 27 Apr, 2022
10 – 11.30am
BOOK
Naomi Hobson's Adolescent Wonderland, a series of photographs that tell the real-life story of young Aboriginal people in remote Australia will be touring regionally in 2022 including Port Augusta Yarta Purtli Gallery, Port Lincoln Nautilus Arts Centre, Roxby Downs, Signal Point Gallery Goolwa and Riddoch Art Gallery Mount Gambier. See full list of tour dates here.
Learn more about Adolescent Wonderland and how you can incorporate Hobson's work into your classroom in 2022 with a briefing by AGSA's Education Coordinator, Kylie Neagle. This session will provide strategies for responding to works of art by Aboriginal and Torres Strait Islander artists in a culturally appropriate and meaningful way and include a hands on making and responding activity.
A materials list will be emailed to participants a week prior to the event.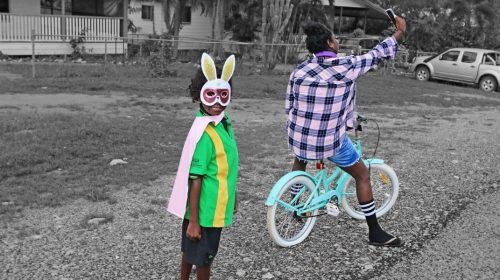 18th November 2022 — 1st September 2023
Naomi Hobson's Adolescent Wonderland is a series of photographs that tell the real-life story of young Aboriginal people in remote Australia
View event