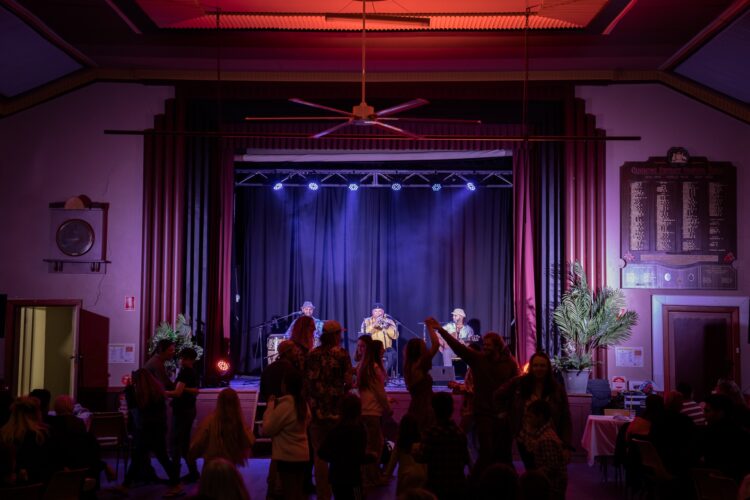 Through the Shows on the Road touring program, Country Arts SA is committed to providing the opportunity for more communities to access professional touring performances and host performances in their towns.
The Shows on the Road program allows Country Arts SA to work with existing and emerging South Australian artists, contributing to the development of great local talent.
Each community Presenter Group adds their own flair to the events, sometimes cabaret, sometimes supper and sometimes joining the artists in conversation over a cup of tea after the show.
Our Presenter groups are committed to promoting and ensuring the successful delivery of the shows in their region. If you are interested in becoming a Presenter Group for your community, please contact your Tammy Hall, Shows on the Road Producer and complete an application form so that we can bring a high quality show to your town!
Our 2022 Shows On The Road program will be announced soon, stay tuned!
See what Shows On The Road communities say about the program
Patsy Crabb from Tintinara says;
" the shows are brilliant and it's like having a fringe show in our town, without the hassle of driving to the city paying for fuel, parking, and accommodation."
What motivates you to be a part of shows on the road program every year?
We love bringing new experiences to our community that are not available without travelling a big distance. The shows are always of such high quality that we learn from them and also opens the eyes of the young students in our town to what opportunities our out there. – Cassie Weir, Roxby Downs
What benefits do you see for your community with their involvement in the touring shows?
The benefits to our community from being involved in the touring shows are:
It enables us to have professionals shows in our town for the community to see a great show in their own backyard without having to travel to the city to see it, which some of community members would never travel that 400km round trip to do.
We use the show as a vehicle for different community groups to fund raise by complimenting the show with a dinner.
We have had actors from the shows do workshops with the local school children, which they would never have the opportunity to do being in a small rural school.
It helps promote our little town
By having the shows in our town, it utilizes our local hall – Patsy Crabb, Tintinara
What impact do the shows have on your community?
We create a welcoming environment at the shows by having drinks and nibbles before and after, so it becomes a great place for networking and making friends. We have a lot of people coming and going here so it's a good place to meet new people. We've had a number of shows with indigenous performers (including some related to people here) which is a great showcase for multiracial community. Some people eat out at the pub over the road before the show. – Anna Beach. Port Augusta
Have you been motivated to explore other arts activities in your community as a result of Shows on The Road? If yes, what activities, more performances? Visual/public art?
Since being involved with the shows on the road, we have encouraged more community members to experience different shows. Since our first show we now get people in the audience from neighbouring town. We have a core body that attends and are each show we notice more attending from surrounding towns. – Patsy Crabb, Tintinara
Current Shows On The Road Communities
How to get involved and become a Presenter Group